The Contest:
The Georgia Cyber Innovation and Training Center is home to a wide collection of art and has maintained a commitment to local artists by sourcing the pieces from Georgia artists.  To continue to honor that theme we would like to invite our colligate community to add to the collection. We are conducting three mural contests for three walls in the new space of the Shaffer MacCartney Building.
Application requirements
Must be an Augusta University Student.
Must submit an application with qualifying artwork. See submission details.
How to Apply
Complete our online application and submit your work.
Timeline:
Project Details Released & Announced
Wednesday, February 22, 2023
Mural Contests Deadline
Sunday, March 26, 2023
Finalist Announcement
Friday, March 31, 2023
Finalist Revision Window
Friday, March 31, 2023
- Sunday, April 9, 2023
Final Contest Submissions Due
Sunday, April 9, 2023
Contest Winners Notified
Wednesday, April 13, 2023
All Finalists will have their artwork selection status publicly announced on our website.
Will have their artwork printed and installed on the wall in the Shaffer MacCartney Building located at the Nathan Deal Campus for Innovation. [All costs and logistics for the printing and installation of the murals will be handled by the contest provider – The Georgia Cyber Innovation and Training Center]
All Finalists will have their artwork selection status publicly announced on our social media channels.
A summer membership to The Garage.[1] The Garage is the Georgia Cyber Center's makerspace. The Garage boasts a wide range of equipment including a Laser Cutter, a 4'x8' CNC Machine, 3D Printers, soldering irons, and various wood working equipment.
[1] Students will still be required to complete the safety training with our Makerspace Specialist prior to using any of the equipment.
All Finalists will have their artwork and selection status publicly announced and showcased on our 30-foot nanolumen screen in the Shaffer MacCartney Lobby.
The murals submitted can be in any medium, please keep in mind that the final submission requirements will require vectored renderings of your work. Compositions are not limited by artistic style and can include any layout format that meets the "canvas" dimensions. Lettering, repeating or non-repeating surface patterns, collage, landscape, and independent depictions will all be considered.
Artificial Intelligence (AI) generated art will be disqualified from consideration.
* We are a professional facility that houses multiple industry divisions, all content submitted should keep that in mind. Content that includes copyright, Personal Protected Information (PPI), Personal Health Information (PHI), violence, political propaganda, racists language or imagery, sexual violence, pornographic, child exploitation, discriminatory, derogatory, religiously offensive, or illegal activities will be immediately disqualified.
File Specifications:
Minimum 300 DPI.
Initial submissions can be in vector or raster high-resolution image; accepted formats include .ai, .pdf, .eps, .jpeg, or .png format. All final selected works will need to submit a vector file in .ai, .eps, or .pdf for printing. Files will be printed in CMKY.
Please name the file accordingly so that we can maintain a record of artist to artwork.

File naming: "LastName_WallName.jpeg" [ex. Shaffer_W1-ElevatorLobby.ai]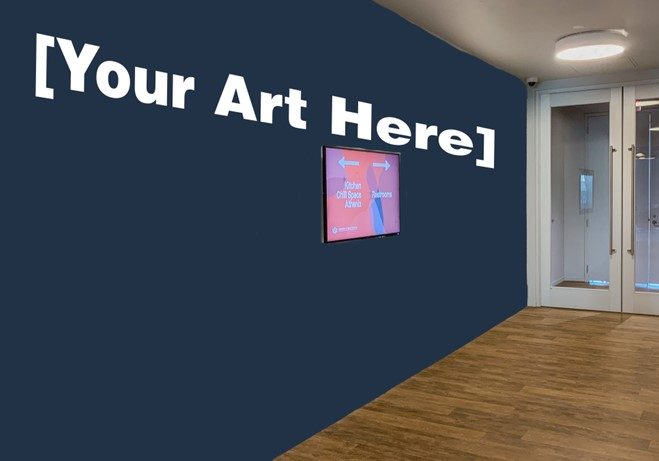 "Wall 1 – Elevator Lobby"
Dimensions: 114" tall x 340" wide
Theme: Local.
We would like this space to feel welcoming and ground visitors with where we are located, in a historical and/or environmental perspective. The space should anchor you in the local area, in our history, in the Augusta Metro/CSRA community.
Dimensions: 114" tall x 287" wide
Theme: Collaboration.
For the Collaboration Lounge area we want this space to highlight the sense of community and collaboration of our ecosystem. Words like partnership, participation, and cooperation should come to mind.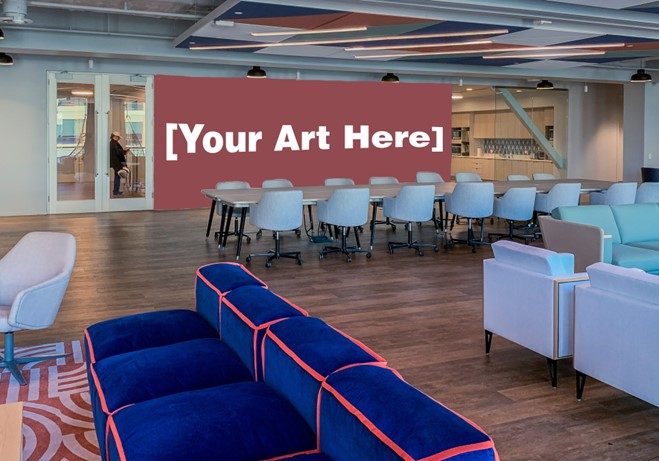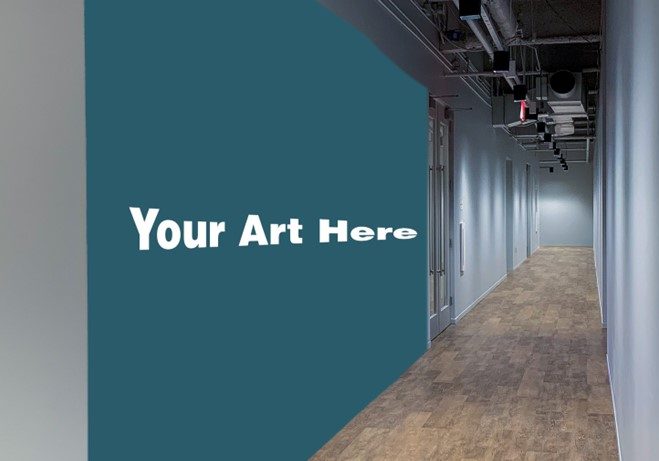 "Wall 3 – Innovation Hall"
Dimensions: 114" tall x 394" wide
Theme: Innovation.
We would like you to explore innovation as a concept, in particular how innovation has evolved and is rapidly growing and expanding.